Studio Piet Boon and COCOON share the same passion for craftsmanship, timeless design and natural materials that beautify with age. This mutual passion is captured in our exclusive designer collection of contemporary taps & basins: Piet Boon by COCOON.
Inspired by the simplicity and symmetry of geometric shapes, the tap collection consists of an unconventional shaped faucet and short clear contoured tap that comprises of two isolated components, intuitively instructing how to be operated.
"Our taps & basins collection is my favorite design product. The rich simplicity of the collection is truly amazing."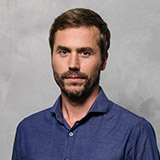 Olivier Brinckman
Architect at Studio Piet Boon
Available in matte 'Gunmetal Black', 'Brushed Stainless Steel' and 'Copper', the designer Piet Boon by COCOON collection brings industrial chique to any kitchen or bathroom interior.